Consignment Listings: Listed below are current mining properties for sale
Important Notice: All information for these gold and silver mining properties for sale is supplied by the seller and is believed to be accurate and is presented in good faith, however none of this information has been wholly verified by idiggold2.com. As with any financial transaction, buyers/investors must complete a thorough due diligence on their own. We are not responsible for any damages of any kind resulting from the use of any information contained on this web site as a part of any "consignment" listing. We will assist you in any way we can, however with these listings, you as a buyer will be fully responsible for all your financial dealings with these sellers.
By your use of this website you acknowledge that these "consignment" listings cannot be guaranteed by idiggold2.com and that you take full responsibility for your own business transactions.
Some sellers may require Proof Of Funds before full release of documentation on these mining claims.
---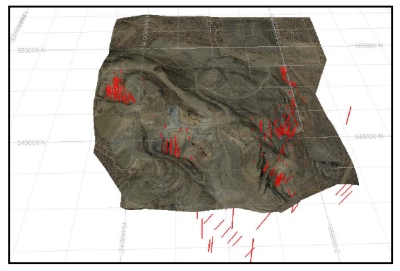 For Sale – Patented Gold and Silver Mine Located in Kern County California
NI-43-101 completed February 6, 2014.
This Gold and Silver Mine is a group of 5 patented and 15 unpatented mining claims.This mine is just under 300 acres total.
Most of the mining claims were filed in 1902. This mine was worked from 1902-1942. During this time approximately $3,500,000.00 in Gold was recovered. This is based on the fixed gold prices of that era of $16.00-$32.00 an oz.
During the late 1980's through 1991 the mine was operated under lease. Four pits were opened with the ore being processed by cyanide heap leach. During this time 77,500 oz. of gold and over 200,000 oz. of silver was produced. In addition over 300 test holes were drilled between 300 to 500 foot depths with assays taken every 5 feet.
This drill hole data indicates the remaining reserves to be 75-100,000 oz. Gold and more than 200,000 oz. of silver.
This mine has a chemical extraction permit. It is currently being operated under lease for aggregate extraction.
For more detailed information on mining properties for sale please contact Jason Inks .