Gold Claim Purchase Transaction Details
All mining claim sales are on a cash only basis.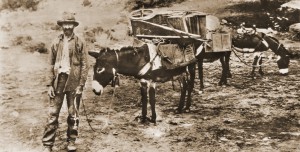 There are no time payments, lease options or financing available.  Payment will only be accepted by wire transfer within 72 hrs after sale or auction closing(we are not holding auctions anymore, although we may again at some time in the future).
When you choose to purchase a claim through idiggold2.com, transfer of ownership will be made to you by notarized quit claim deed upon clearing of your funds. Seller will record the deed with the County Recorder's Office and the Bureau of Land Management in Sacramento, and pay all transfer fees accordingly; at which time, and transfer of ownership becomes officially final. The entire process usually takes about two weeks. Upon clearing of your funds you will immediately be sent a receipt and purchase agreement acknowledging the sale. Although it takes a little time to transfer and record the deed, in most cases you can be digging on your new claim the day after your wire transfer clears.
You can read what some previous buyers experiences have been on the about us page.
These are "Unpatented" mining claims, which means that you will own the mineral rights to the property but not the actual land. The land belongs to the American people and is public land administered by the Bureau of Land Management and/or the United States Forest Service. By current federal regulations, you cannot build a home or cabin on unpatented mining claims. You may build a shed for storage of your equipment (with proper permits) as long as you are actively mining your claim.
You may camp or live in an RV on your claim as long as you wish, provided you are actively mining. The mining law and existing case law allows mineral development as the priority use upon public lands. Federal land managers are instructed by Congress and federal law to encourage mineral development.
After purchasing a claim you are responsible to maintain your mineral rights by keeping current all assessment work as required by law. It is recommended that you read about mining claim assessment requirements here:
BLM Mining Claim "Frequently Asked Questions"
All unpatented mining claims available on this website (except for large consignment listings) are guaranteed to be up to date and have clear title. The descriptive information provided for each claim is as complete and accurate as possible and is presented in good faith. As with any financial transaction, it is incumbent upon each purchaser to perform their own due diligence in regard to the mining regulations, accessibility, camping areas etc. We will do our best to assist you but cannot be held responsible if you decide you overlooked something. All sales are final.
To make purchase arrangements or for more information please contact Jason Inks .