California Gold Claims For Sale
Click Here to View Current Mining Property Listings
Important Note: On July 26, 2011 Governor Brown of California signed Assembly Bill 120, the Natural Resources Trailer bill to the 2011 budget. While Governor Brown has allowed the Department of Fish and Game (DFG) to continue in their efforts to finish the court-ordered environmental impact report (EIR) that was due to be finished November 2011, AB 120 has placed additional requirements upon the process which is likely to postpone completion.

Specifically, AB 120 places a moratorium on suction dredge mining for five years unless the DFG can mitigate every significant environmental impact that results from suction dredging. This requirement greatly surpasses the normal requirements of the California Environmental Quality Act (CEQA), and there is no direction on how DFG is supposed to achieve this goal. It also forces a new fee structure to cover all costs of the program, something that only the legislature can decide at some later time.

Just in case you didnít know, this new law only stops suction dredging within Californiaís active waterways. It does not have anything to do with the other types of prospecting or mining that is done in California. Unaffected prospecting activities include panning, sniping & vack-mining, sluicing & high-banking, booming, electronic prospecting and other types of prospecting that do not use a suction nozzle within an active stream, river or creek. There are no seasons imposed upon these other types of mining activity. In other words, you can do them at any time of the year.
If you would like to have your own high-quality California placer gold claim, you have come to the right place. We are continually locating excellent unpatented claims for sale on the rivers and creeks of California's gold rich and beautiful Siskiyou County. In addition we now have several creek claims available in Southern Oregon's Josephine County.
We have recently united several claim seekers with their own rich gold claims on the Klamath and Salmon and Shasta Rivers.
Gold-rich Siskiyou County is located in Northern California. It is bordered on the north by Oregon and on the west by the Pacific ocean. Josephine County Oregon is just north across the state line. This is an area of vast scenic beauty with wild rivers and tall timber. The colorful local mining history goes back to the 1849 California gold rush.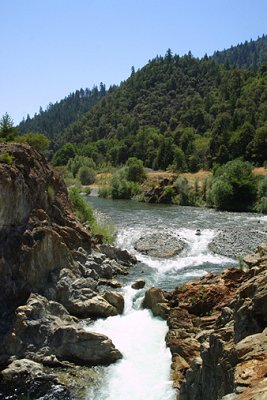 These placer gold claims are located along California Highway 96 and County Roads. This means easy access for your vehicle or RV. There is good camping on or near the claims; or if you prefer, there are local facilities and services to suit your needs.
These unpatented gold mining claims are suited for most types of gold mining activities from sluicing and high-banking to metal detecting and suction dredging. They are located in one of California and Oregon's richest gold-producing areas. All the placer gold claims for sale are up to date with clear title and are ready for transfer to your name.
We guarantee clear title or your money back!
You need look no further to have your own gold-rich mining claim. Click on the "Available Claims" link at left to view the current placer gold claims that we have available. If you have any questions regarding these gold claims for sale, please click on the contact link to request more information.