Gold Property – Sold – "Rattlesnake Bar"

Unpatented Klamath River Gold Property Claim SOLD
Rattlesnake Bar CAMC
0287910
For Sale at Auction, 0.5 Mile,
Starting Bid: $7000.00
Average Gold Property Sale Value Based
on Previous Auctions:
$14,000.00
Buy Now Price:
$10,500.00
Guaranteed Title or Your Money Back!
You may make an offer to purchase any gold property before the start of the auction
with the "buy now" option by contacting Jason Inks. The "buy now" option will
not be available after auction bidding is opened.
Gold Property Claim Map and Location Notice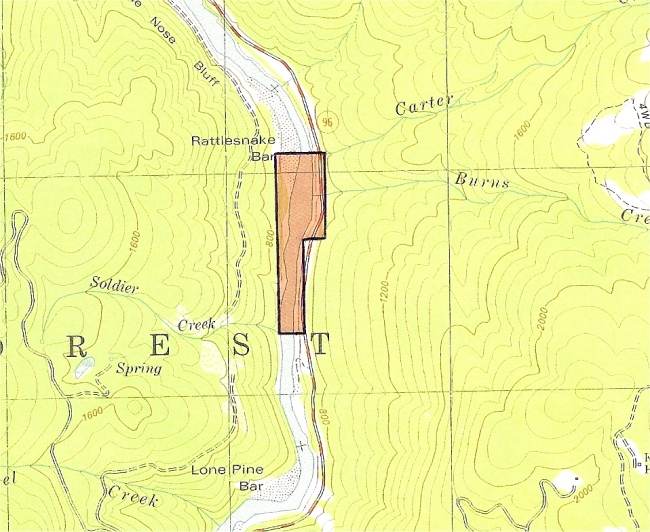 Click here for an important note regarding AB-1032
The Rattlesnake Bar claim (on the Klamath River) is located about 26 miles downriver from Happy Camp. The upriver boundary is located at Highway 96 mile marker 14.74. at Carter Creek. Look for a red blaze on a tree on the embankment-side of the highway. The downriver boundary is located where Soldier Creek enters the Klamath, across the river from the highway. Look for an orange and white metal stake at the end of a guard rail on the river-side of Highway 96.
PROSPECTS : The Klamath River has a very rich mining history. This gold property location is no exception. Evidence of old hydraulic and bench mining can be seen throughout the immediate area. Three very exciting, large natural natural riffles are clearly visible from the highway along this beautiful claim. These riffles provide excellent shallow dredging opportunities. There is a long stretch of shallow water with a bunch of big boulders almost certain to be resting on the bedrock. Excellent highbanking areas exist along this claim, especially on Rattlesnake Bar.