Unpatented North Fork Salmon River Gold Claim
Bestville Tailings CAMC 283257

Approximate length along river: 1/4 of a mile,
Google Earth GPS coordinates: 41 18'1.5"N 123 8'34.0"W
Starting Bid: $20,000.00
Average Sale Value Based
on Previous Auctions: $25,000.00

Buy Now Price: $23,000.00
Guaranteed Title or Your Money Back!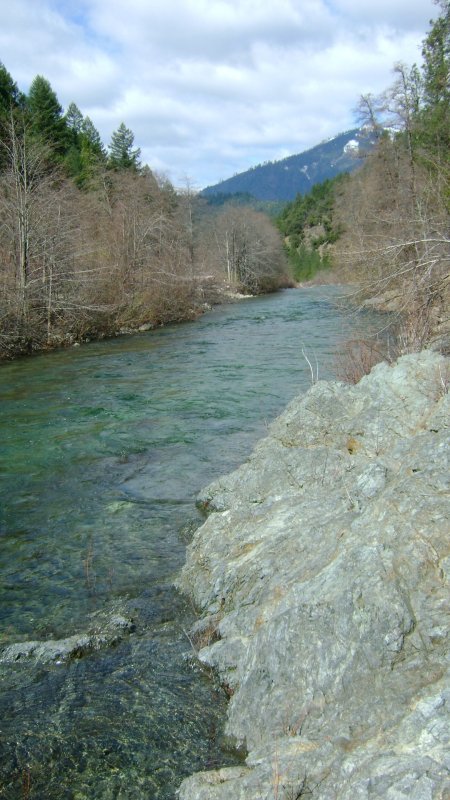 You may make an offer to purchase this claim before the start of the auction
with the "buy now" option by contacting Jason Inks. The "buy now" option will
not be available after auction bidding is opened.
It is very well known that the North Fork of the Salmon River between Sawyers Bar and Forks of the Salmon was historically the richest section of river within Siskiyou County. Some historical accounts report that more gold was produced out of this14 miles of river, than was produced from the rest of the entire county! Some have argued that this was the most productive stretch of river in all of California, especially near Sawyers Bar.
The Bestville Tailings property is one of the first private mining claims located just downstream from Sawyers Bar. It is the first mining claim as you go beyond the private property which makes up the town. Indeed, this may be one of the richest suction dredging, high-banking and metal detecting claims available anywhere in America. The location is perfect; it does not get any better than this!
The upriver boundary is located just downstream from the last portion of private property within Sawyers Bar. Look for a mile marker along the Salmon River Road that is labeled SIS 14, which is located near the upper boundary of this claim. The claim then extends approximately ¼-mile downriver (please see location notice).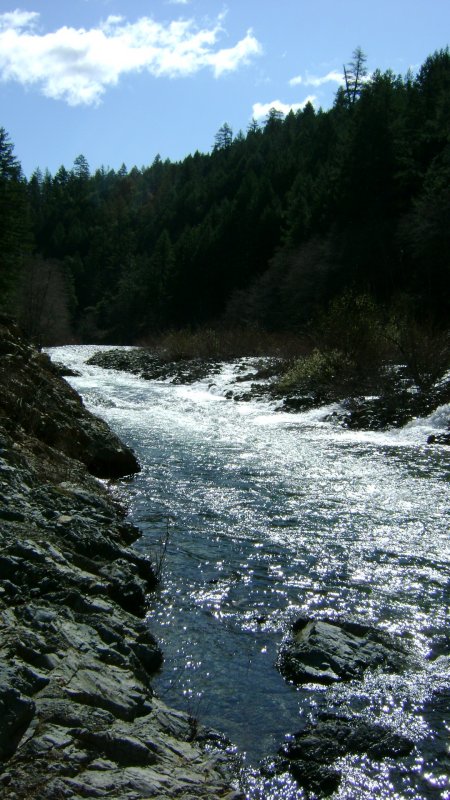 This is really nice claim! Near the lower end of the claim, there is a very nice access road which leads to a fantastic camping area. A nice trail then leads to a great swimming hole on the river.
You can go directly to this claim by copying the following coordinates into Google Earth: 41 18'1.5"N 123 8'34.0"W
There is also a fantastic ATV trail which provides some access further up the length of the claim. This place is an outdoor wonderland!
Old hydraulic tailing cuts are visible all over the banks of the claim, leaving signs that the Old-timers really did well in the immediate area. Sawyers bar is very well known for its rich mining history. Large volumes of tailings from the extensive earlier mining, along with most of their gold losses, will have since washed into the river and been re-deposited by major flood events.
The river flows relatively slow on portions of the claim. With the easy access, this will make a wonderful property for people who are just getting started in suction dredging. There is also a very significant set of rapids on the claim, which should have created a very substantial gold trap.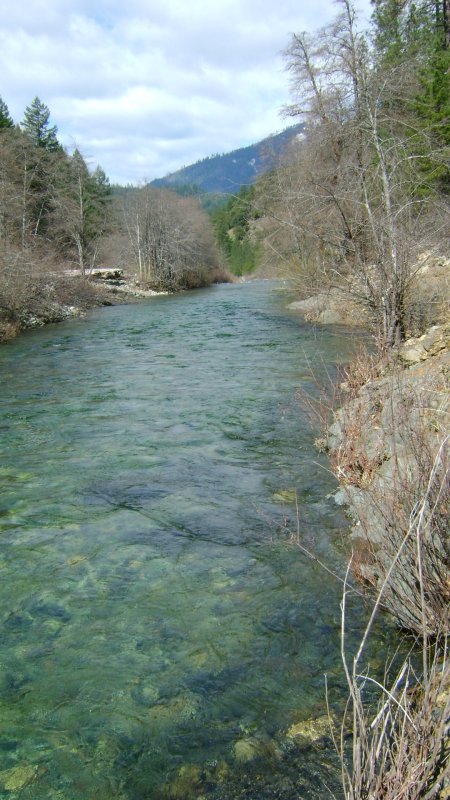 PROSPECTS: This mining property is located in one of the most historically-rich sections of river within California. There were bench operations and hydraulic mines all along the river in the local area. Evidence of old bench work, including tail races and tailings piles, can be seen all over the claim.
Near the upper end, you can actually see where virgin streambed remains in place, actively eroding across exposed bedrock directly into the river. It doesn't get any better than that!
Near the upper portion of the claim, you can also see a large natural gravel bar which has been deeply cut into by recent high water, exposing bedrock and lower layers of streambed; excellent for high-banking and metal detecting!
Please note that the images were taken during late March when water levels are high and mighty. The river will slow down a great deal by the time the dredging season begins in July.
There is exposed bedrock showing along a large portion of banks of this claim, so there is endless potential for high-banking, deep & shallow dredging, sluicing and metal detecting for beautiful gold nuggets.
For more information please contact Jason Inks .